The 2008 Gold Buffalo Coin (Buy on eBay) marked the third year of the 24 karat gold bullion series. The coin design is based on James Earle Fraser's 1913 Type 1 Buffalo Nickel. The popular design and .9999 purity of the gold composition have made this coin a favorite of both collectors and previous metals investors.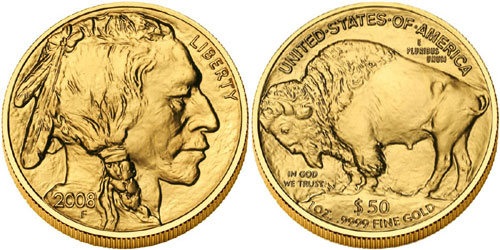 Bullion Coin
The one ounce bullion version of the coin was available through the United States Mint's network of authorized purchasers. These bullion dealers purchase the coins directly from the U.S. Mint at the spot price of gold plus a mark up and then distribute them to other dealers and the broader marketplace.
After selling at a relatively brisk pace throughout much of the year, the 2008 Gold Buffalo bullion coins experienced a surge in demand in September. The public demand for coins exceeded available supply and the U.S. Mint was forced to suspend sales of the coins for more than a month. Other suspensions had already taken place for the American Gold Eagle and American Silver Eagle bullion coins. In November 2008, the U.S. Mint announced that they would resume taking orders for the Gold Buffalo bullion coins until their final inventory was depleted. An additional 25,000 coins were sold before the inventory was exhausted.
The bullion coin mintage for 2008 exceeded the levels of 2007 with a total of 189,500 coins produced. This was still below the lofty levels reached during the inaugural year of the series.
Proof Coin
During 2008, the U.S. Mint also produced collector versions of the coins. For more information see 2008 Proof Gold Buffalo and 2008-W Uncirculated Gold Buffalo.
2008 Gold Buffalo Specifications:
Mintage: 189,500 (bullion version)
Mint Mark: none
Designer: James Earle Fraser
Composition: 24 karat (.9999 ) fine gold
Weight: 1.0001 troy ounce (31.1035 g)
Diameter: 1.287 inches (32.70 mm)
Thickness: 0.116 inches (2.95 mm)

< 2007 Gold Buffalo | 2009 Gold Buffalo >