For 2008, the United States Mint expanded offerings of American Gold Buffalo coins for collectors. In previous years, the only collectible version offered was the one ounce proof coin. This year, the 2008 Proof Gold Buffalo (Buy on eBay) was available in four different sizes and a separate line of collectible uncirculated coins was also offered. This expanded the scope of the program to match the collectible offerings for the 22 karat American Gold Eagle.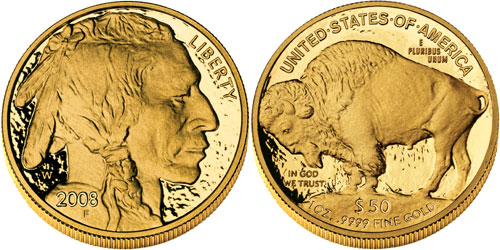 Sales of the 2008 Proof Gold Buffalo coins began on July 22, 2008. The full product line included $50 face value one ounce coins, $25 face value one-half ounce coins, $10 face value one-quarter ounce coins, $5 face value one-tenth ounce coins, and the 4 Coin Set containing one of each denomination. Coins were intended to be minted to customer demand with no ordering limitations in place.
Initial Price
When the coins were initially offered for sale, the prices were determined based on the prevailing price of gold. As the price of gold steadily declined in the following months, the prices of the coins were not adjusted, resulting in unusually high premiums. The U.S. Mint finally adjusted prices for the coins on November 13, 2008. The table below displays the initial prices and the reduced prices. On July 22, 2009 the price of gold was $946.70 per ounce. On November 13, 2009 the price of gold was $726.50.
| | July 22 Price | Nov 13 Price |
| --- | --- | --- |
| 1 oz Proof | $1,199.95 | $1,049.95 |
| 1/2 oz Proof | $619.95 | $549.95 |
| 1/4 oz Proof | $329.95 | $312.45 |
| 1/10 oz Proof | $159.95 | $164.95 |
| 4 Coin Set | $2,219.95 | $2,005.45 |
The U.S. Mint announced in late 2008 that they would be discontinuing a large number of products. This included the newly established fractional proof Gold Buffalo coins. This made the fractional proof versions available during 2008 a one year only issue. The pace of sales following the discontinuation announcement and price reduction increased, and the products sold out shortly thereafter.
The 2008 Proof Gold Buffalo coins went on to stellar performance on the secondary market as collectors gained appreciation for the lower mintages of these unique issues.
2008 Proof Gold Buffalo Mintages
2008-W Proof $50 Gold Buffalo (1 ounce): 18,863
2008-W Proof $25 Gold Buffalo (1/2 ounce): 11,169
2008-W Proof $10 Gold Buffalo (1/4 ounce): 13,125
2008-W Proof $5 Gold Buffalo (1/10 ounce): 28,884
(mintages reflect total from individual and 4 coin set sales)
2008 Proof Gold Buffalo Specifications
Mint Mark: W
Designer: James Earle Fraser
Composition: 24 karat (.9999 ) fine gold
Weight: varies based on denomination
Diameter: varies based on denomination
Thickness: varies based on denomination