For the first half of 2022, gold prices mostly remained within the range of $1800 to $1900 but reached a high of $2,043 after Russia invaded Ukraine. With rising inflation and increasing economic uncertainty, including the prospect of a recession later in 2022 or in 2023, some analysts expected gold to outperform. But at the same time, rising interest rates and a strong dollar worked to prevent gold from hitting new highs. Analysts mostly expected gold to remain to have an average price of about $1900 for the rest of 2022.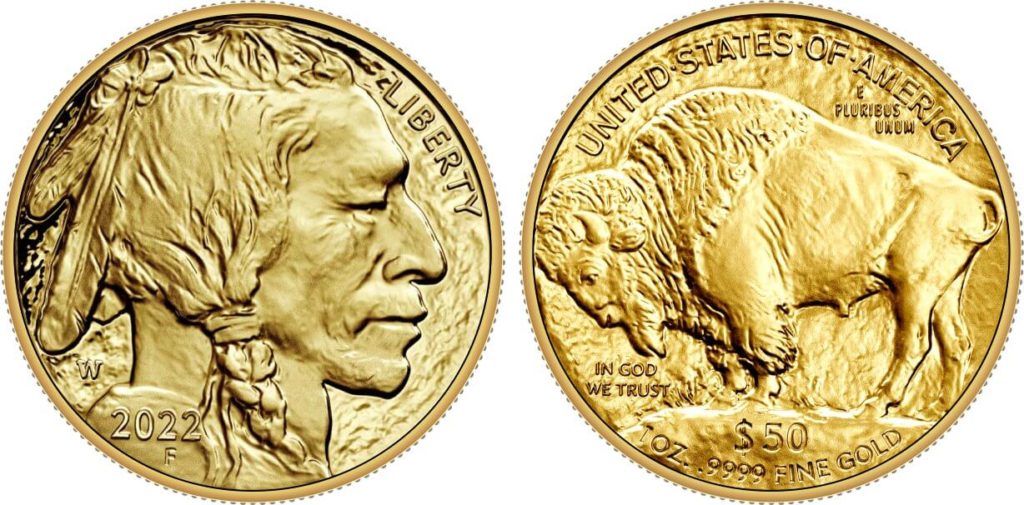 Sales of the 2022 American Buffalo Gold Bullion Coin (Buy on eBay) began in January with 61,500 coins sold, a similar number to the same period in 2021. Then sales continued to remain strong in the 30,000-range each month except March when they rose to 64,500. By the end of May, total sales were 218,500, putting yearly sales on track to be another very strong year.
The 2022-W Proof American Buffalo Gold Coin (Buy on eBay) went on sale on May 12 with a mintage and product limit of 16,000 coins, no order limit and debut price of $2,740 – the same as it initial price in 2021. Its sales during the first four days it was available were 11,495, which was 2,749 coins fewer than were sold during the same period in 2021. Sales through May 22 were 12,114.
2022 Gold Buffalo Specifications:
Bullion Mintage: TBD
Proof Mintage: TBD
Mint Mark: none (bullion), W (Proof)
Designer: James Earle Fraser
Composition: 24 karat (.9999) fine gold
Weight: 1.0001 troy ounces (31.1035 grams)
Diameter: 0.116 inches (32.70 mm)