American Gold Buffalo Mintages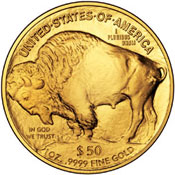 The table below presents the mintage figures for American Gold Buffalo Coins. The series began in 2006 as the first 24 karat gold coin offering from the United States Mint. Since the start of the series, coins have been offered both in bullion and collectible proof versions. For 2008, the United States Mint offered collectible uncirculated versions of the coin, as well as fractional proof coins. In 2013, a reverse proof version was offered to celebrate the 100th anniversary of the original design.
The collectible versions all carry the "W" mint mark, while the bullion coins do not have a mint mark.
Unless noted, figures represent the final mintages published by the U.S. Mint. Where applicable, mintages include combined sales totals across all product offerings. For 2008, the totals incorporate sales for individual coins, 4 coin sets, and the Double Prosperity Set.
The lowest mintage Gold Buffalo coin is the one ounce uncirculated coin released in 2008 with a mintage of 9,074. The highest mintage is for the 2006 bullion coin at 337,012.
Figures followed by an asterisk (*) represent the last reported sales figures. Final audited mintages may differ.
Gold Buffalo Bullion Coin Mintage
| Date | 1 oz. |
| --- | --- |
| 2006 | 337,012 |
| 2007 | 136,503 |
| 2008 | 189,500 |
| 2009 | 200,000 |
| 2010 | 209,000 |
| 2011 | 250,000 |
| 2012 | 100,000 |
| 2013 | 198,500 |
| 2014 | 180,500 |
| 2015* | 220,500 |
| 2016* | 219,500 |
| 2017 | 99,500 |
| 2018 | 121,500 |
| 2019 | 61,500 |
| 2020 | 242,000 |
| 2021 | 350,500 |
| 2022 | TBD |
Gold Buffalo Proof Coin Mintage
| Date | 1 oz. | 1/2 oz. | 1/4 oz. | 1/10 oz. |
| --- | --- | --- | --- | --- |
| 2006 | 246,267 | – | – | – |
| 2007 | 58,998 | – | – | – |
| 2008 | 18,863 | 12,169 | 13,125 | 18,884 |
| 2009 | 49,306 | – | – | – |
| 2010 | 49,263 | – | – | – |
| 2011 | 28,683 | – | – | – |
| 2012 | 19,715 | – | – | – |
| 2013 | 18,584* | – | – | – |
| 2014 | 20,557* | – | – | – |
| 2015 | 16,591* | – | – | – |
| 2016 | 21,878* | – | – | – |
| 2017 | 15,810 | – | – | – |
| 2018 | 15,756 | – | – | – |
| 2019 | 14,844 | – | – | – |
| 2020 | 11,887 | – | – | – |
| 2021 | 16,958 | – | – | – |
| 2022 | TBD | – | – | – |
Gold Buffalo Reverse Proof Coin Mintage
Gold Buffalo Uncirculated (W) Coin Mintage
| Date | 1 oz. | 1/2 oz. | 1/4 oz. | 1/10 oz. |
| --- | --- | --- | --- | --- |
| 2008 | 9,074 | 16,908 | 9,949 | 17,429 |