The United States Mint offered the 2016 American Gold Buffalo (Buy on eBay) in bullion and proof formats. This year the bullion version saw a change in the standard packaging and the proof version saw a boost in demand.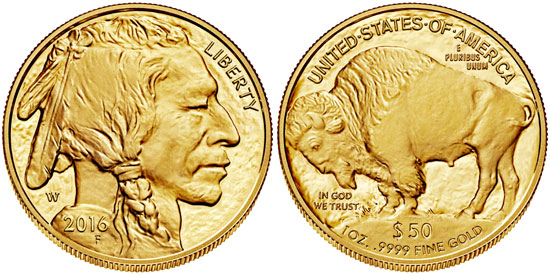 Bullion Coin
Sales for the 2016 Gold Buffalo bullion coins officially opened on January 11, 2016. On that date, authorized purchasers were able to order the one ounce gold coins in unrestricted quantities. Opening day orders total 21,000 pieces, up moderately from the prior year opening. For the month of January, total sales would measure 34,500 pieces. Throughout the remainder of the year, demand for the bullion coins fell within a range of 9,500 to 38,000 ounces per month. At year end, final bullion coin sales totaled 219,500 ounces.
An interesting change for the program occurred on May 4, when the United States Mint informed authorized purchasers that the American Buffalo Gold Bullion Coins would henceforth come packaged in tubes and boxes. Previously, the coins had been packaged within sheets of semi-rigid mylar containing twenty coins, arranged five horizontally and four vertically. The large sheets could be cut to separate the coins, while still keeping them within the protective mylar. The newly adopted packaging was similar to the American Gold Eagle packaging where twenty coins were placed within a plastic tube and twenty-five tubes were placed within a plastic monster box. To differentiate the packaging from other programs, the Gold Buffalo bullion coin tubes tops and boxes were colored orange.
Proof Coin
The United States Mint opened sales for the 2016 Proof Gold Buffalo (Buy on eBay) on March 31, 2016. Following the format of recent years, the one ounce proof coins were struck at the West Point Mint and carried the "W" mint mark. The coins were packaged within a hardwood case with an adjustable platform and accompanied by a certificate of authenticity. Initial pricing was $1,590 per coin based on a weekly average market price of gold within the $1,200 to $1,249.99 range. The pricing varied throughout the course of the offering based on changes in the market price of gold. The proof coins were offered without a stated maximum mintage and without an ordering limit.
Opening day sales reached for the 2016 Proof Gold Buffalo reached 8,735 pieces, up more than 50% compared to the prior year. The elevated demand would continue throughout the course of the offering. Final sales would eventually reach 21,878 pieces, up considerably from the sales of 16,591 reached in the prior year and representing the highest total since 2012.
2016 Gold Buffalo Specifications
Bullion Mintage: 219,500
Proof Mintage: 21,878 (last reported sales)
Mint Mark: none (bullion), W (proof)
Designer: James Earle Fraser
Composition: 24 karat (.9999 ) fine gold
Weight: 1.0001 troy ounce (31.1035 g)
Diameter: 1.287 inches (32.70 mm)
Thickness: 0.116 inches (2.95 mm)

< 2015 Gold Buffalo | 2017 Gold Buffalo >