The 2010 American Gold Buffalo (Buy on eBay) was first available from the United States Mint on April 29, 2010. This represented the first day that orders could be placed for the bullion version of the coin by the U.S. Mint's authorized purchaser network. These authorized purchasers buy the coins in bulk quantities and then resell them to other bullion dealers or the public.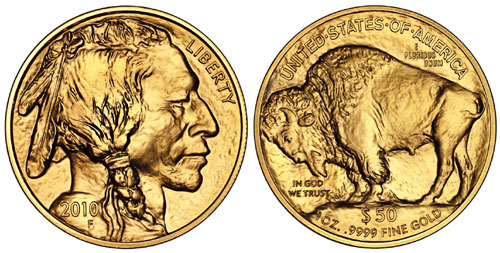 Similar to prior years, the 2010 American Gold Buffalo bullion coins were struck in a composition of 24 karat gold and available in one ounce size only. The design of the coin is taken from James Earle Fraser's Buffalo Nickel, minted for circulation from 1916 to 1937. The obverse features the portrait of a Native American and the reverse features an American bison on mound.
The release date for the 2010-dated bullion coins came much earlier than the previous year, when the release was delayed until October 15, due to a limited supply of precious metals blanks. After several years of struggling to meet the unusually high worldwide demand for gold bullion coins, the U.S. Mint showed signs of progress. Several bullion and numismatic products were released earlier in the year and rationing programs were lifted for gold bullion coins. These programs had been utilized at times when demand outpaced the U.S. Mint's ability to supply the bullion coins.
Demand
Demand for the 2010 Gold Buffalo was relatively steady throughout the period of release and has been steady throughout the period of release, unlike the previous year when sales occurred in a quick burst at the outset. Eventually, the U.S. Mint announced the end of sales on September 27, 2010. At that point all inventories had been depleted and the decision was made not to mint any further 2010-dated Gold Buffalo bullion coins. Final sales for the issue came in at 209,000.
Following the release of the bullion version of the coin, the U.S. Mint also offered the 2010 Proof Gold Buffalo coin for collectors. The June 3 release date was more than four months earlier than last year's offering.

2010 Gold Buffalo Specifications
Mintage: 209,000
Mint Mark: none
Designer: James Earle Fraser
Composition: 24 karat (.9999 ) fine gold
Weight: 1.0001 troy ounce (31.1035 g)
Diameter: 1.287 inches (32.70 mm)
Thickness: 0.116 inches (2.95 mm)

< 2009 Gold Buffalo | 2011 Gold Buffalo >