The 2015 American Gold Buffalo Coins (Buy on eBay) were offered in both bullion and proof formats. The bullion coins enjoyed a boost in sales driven by a decline in the price of gold, while the proof coin recorded a new mintage low.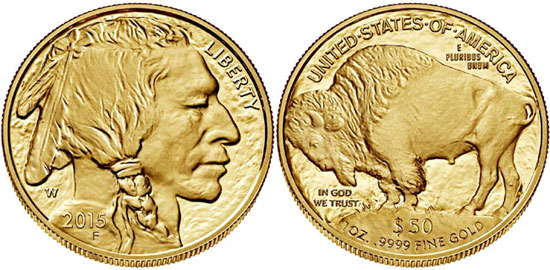 Bullion Coin
Sales for the one ounce 24 karat gold bullion coins opened on January 5, 2015. On that date, authorized purchasers placed orders for 16,500 coins, contributing to overall sales of 34,500 for the month of January. Sales would slow in the following months, ranging from 9,500 to 12,000 coins per month. A drop in the market price of gold spurred higher sales levels in the second half of the year, culminating with monthly sales of 38,000 pieces in November.
For the entire year, Gold Buffalo bullion coin sales measured 220,500 ounces, up by 24.22% compared to the prior year.
Proof Coin
Sales of the 2015 Proof Gold Buffalo (Buy on eBay) opened on April 9, 2015. As in prior years, the coins were offered without a stated mintage limit and without household ordering limits imposed. The coins were priced at $1,590 each, based on an average weekly market price of gold within the $1,200 to $1,249.99 range. Throughout the course of the offering, the price was adjusted based on changes in the average weekly market price of gold.
Opening sales for the coin came in at 5,497 pieces. This was lower than the prior year opening sales of 7,899 pieces, but above the levels of the next two prior years. Sales progressed somewhat slowly throughout the course of the offering. When the coins eventually sold out in the next calendar year, the last reported sales stood at 16,591. This marked the lowest mintage for a one ounce proof coin of the series.
Both the bullion and proof coins carried James Earle Fraser's classic design featuring a profile portrait of a Native American on the obverse and an American bison or buffalo on the reverse. The coins were struck in one ounce of .9999 fine gold at the West Point Mint. The proof version carried the "W" mint mark on the obverse, while the bullion coins did not contain a mint mark.
2015 Gold Buffalo Specifications
Bullion Mintage: 220,500
Proof Mintage: 16,591 (last reported sales)
Mint Mark: none (bullion), W (proof)
Designer: James Earle Fraser
Composition: 24 karat (.9999 ) fine gold
Weight: 1.0001 troy ounce (31.1035 g)
Diameter: 1.287 inches (32.70 mm)
Thickness: 0.116 inches (2.95 mm)

< 2014 Gold Buffalo | 2016 Gold Buffalo >