The United States Mint expanded 2008 offerings for the American Gold Buffalo program to include collectible uncirculated coins minted across a full range of denominations. The 2008-W Uncirculated Gold Buffalo (Buy on eBay) coins are struck on specially burnished blanks and carry the "W" mint mark. These were branded collector versions of the coins, distinct from the regular bullion issues.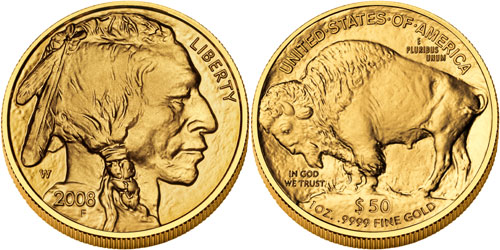 The 2008-W Uncirculated Gold Buffalo coins were announced early in 2008 and went on sale July 22, 2008. The coins were to be minted to customer demand and no ordering limitations were imposed. Available product options included individual coins or a complete four coin set, containing one of each denomination. The four denominations included the $50 face value one ounce coin, $25 face value one-half ounce coin, $10 face value one-quarter ounce coin, and $5 face value one-tenth ounce coin.
Price Change
When the coins initially went on sale, the price of gold was $947.60 per ounce and product prices were determined accordingly. Soon after sales began, the price of gold experienced an extended decline, leaving the coins with unusually high premiums. The situation was not rectified until November 13 when prices were finally reduced. By this time, the price of gold had fallen to $726.50 per ounce. The table below displays the original offering prices and the adjusted prices. At the time the prices were adjusted the one-tenth ounce coin had already sold out.
| | July 22 Price | Nov 13 Price |
| --- | --- | --- |
| 1 oz Uncirculated | 1,059.95 | 999.95 |
| 1/2 oz Uncirculated | 539.95 | 524.95 |
| 1/4 oz Uncirculated | 289.95 | 297.45 |
| 1/10 oz Uncirculated | 129.95 | N/A |
| 4 Coin Set | 1,959.95 | 1,902.45 |
Towards the end of the year, the U.S. Mint announced that they had performed a review of their current product line, which would result in a significant reduction in the number of numismatic product offerings. Among the eliminated products would be most of the collectible Gold Buffalo coins. After 2008, all of the Gold Buffalo collectible uncirculated or "burnished" coins would be discontinued. This made the 2008-W Uncirculated Gold Buffalo coins a unique, one year only issue. The circumstances of the coin's release also contributed to surprisingly low mintages.
2008-W Uncirculated Gold Buffalo Mintages
2008-W Uncirculated $50 Gold Buffalo (1 ounce): 9,074
2008-W Uncirculated $25 Gold Buffalo (1/2 ounce): 16,908
2008-W Uncirculated $10 Gold Buffalo (1/4 ounce): 9,949
2008-W Uncirculated $5 Gold Buffalo (1/10 ounce): 17,429
(mintages reflect total from individual, 4 coin set, and Double Prosperity Set sales)
2008-W Uncirculated Gold Buffalo Specifications
Mint Mark: W
Designer: James Earle Fraser
Composition: 24 karat (.9999 ) fine gold
Weight: varies based on denomination
Diameter: varies based on denomination
Thickness: varies based on denomination

< 2008 Celebration Coin | 2008 4 Coin Set >