The United States Mint made the bullion version of the 2011 Gold Buffalo (Buy on eBay) available to its authorized purchaser network starting on March 14, 2011. As is the case for other U.S. Mint bullion products, only this group of primary distributors may buy the coins directly based on the market price of gold plus an established premium. The collectible proof version of the coin was released at a later date and offered directly to the public.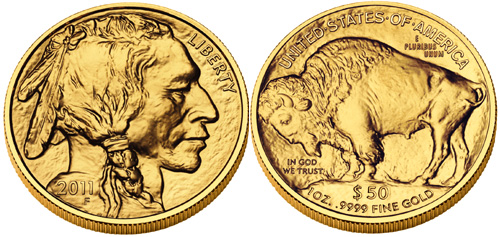 When the bullion coins were first made available, the U.S. Mint indicated that they anticipated having a sufficient quantity of the coins to satisfy public demand. They did not impose their allocation program, which limited quantities available to authorized purchasers. In previous years, they had used this program to ration quantities when demand outstripped supply.
Initial sales for the 2011 Gold Buffalo bullion coins were somewhat slower than seen in previous years, with a quantity of 38,000 of the one ounce coins sold by the end of March. Steady sales continued for the remainder of the year, reaching 174,500 by December 31.
Total production for the 2011-dated Gold Buffalo bullion coins was actually 250,000 pieces. The remaining unsold pieces continued to be sold during the following year until the entire amount was depleted.
Three Chiefs
The obverse of the American Gold Buffalo features a depiction of a Native American, modeled after three chiefs. The inscriptions include "LIBERTY" and the date 2011. The reverse of the coin features an American bison or buffalo, believed to be modeled after Black Diamond from the Central Park Zoo. The inscriptions include "UNITED STATES OF AMERICA", "E PLURIBUS UNUM", "IN GOD WE TRUST", and the legal tender face value, weight, and fineness of the coin. The designs are based on the collector favorite Buffalo Nickel, designed by James Earle Fraser.

The 2011 Proof Gold Buffalo was first made available to collectors on May 19, 2011.
2011 Gold Buffalo Specifications:
Mintage: 250,000
Mint Mark: none
Designer: James Earle Fraser
Composition: 24 karat (.9999 ) fine gold
Weight: 1.0001 troy ounce (31.1035 g)
Diameter: 1.287 inches (32.70 mm)
Thickness: 0.116 inches (2.95 mm)

< 2010 Gold Buffalo | 2012 Gold Buffalo >