Early in 2008, the United States Mint announced a special product offering which included the 2008 Gold Buffalo Bullion Coin. The product was known as the American Gold Buffalo 2008 Celebration Coin (Buy on eBay).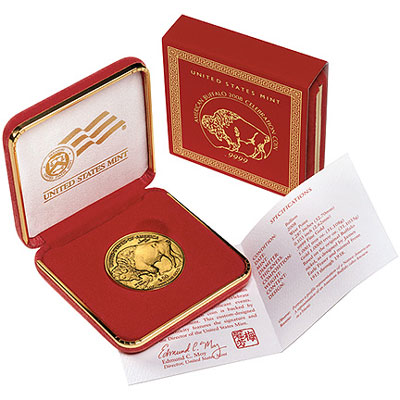 The U.S. Mint began the "Celebration Series" to introduce numismatic coin products packaged and positioned for specific gift giving events. The Gold Buffalo Celebration Coin was introduced to coincide with the Lunar New Year beginning February 7. The coin was targeted towards Asian-American buyers and was introduced in 2008 since "8" is a lucky number in many Asian cultures. The coins were packaged in a plush red gift box with a specially decorated sleeve. The certificate of authenticity included the chop mark of the United States Mint Director.
The coin contained in the offering is the regular 2008 Gold Buffalo Bullion Coin. It contains one ounce of 24 karat .9999 fine gold. The same coins were also available through the U.S. Mint's network of authorized bullion purchasers at smaller premiums. There is no difference between the Gold Buffalo Celebration Coin and the regular bullion coins except for the additional packaging.
When the product was first offered for sale on February 5, 2008, the coin was priced at $1,018.88. On that date, the spot price of gold was $890.70. The price of the coin was adjusted several times during the year in response to the fluctuating price of gold. During the period of availability, a total of 24,558 units were sold.

2008-W Uncirculated Gold Buffalo >