On March 5, 2012, the United States Mint began accepting orders from their network of authorized purchasers for the 2012 American Gold Buffalo (Buy on eBay). This would mark the sixth annual release for the 24 karat gold coin series.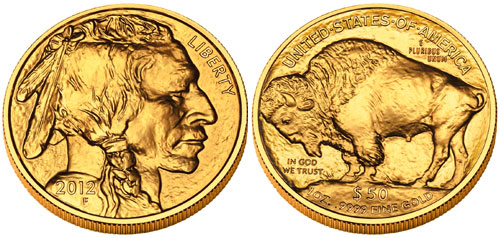 As with other bullion programs, the coins are purchased by a network of primary distributors based on the market price of gold plus a percentage mark up. The coins are then resold to other bullion and coin dealers or directly to the public. This distribution system is utilized to keep premiums low by utilizing the private sector and to ensure a two way market for the coins exists.
The 2012 Gold Buffalo Coins were offered a few days earlier than the prior year, continuing the U.S. Mint's improvement in producing sufficient bullion coins and getting them to market more quickly. There were no rationing or allocation programs imposed for the year's release.
Initial sales figures for the coins were relatively muted with just 5,500 ordered on the opening day of availability. In previous years, initial demand had been more significant. For the duration of the year, sales levels also remained subdued with full annual sales reaching 132,000.
The annual sales figure included 2011-dated coins which were sold during the 2012 calendar year. The final mintage for the 2012-dated bullion coins was an even 100,000 pieces.
The 2012 Proof Gold Buffalo was offered to collectors starting on March 15, 2012.
2012 Gold Buffalo Specifications
Mintage: 100,000
Mint Mark: none
Designer: James Earle Fraser
Composition: 24 karat (.9999 ) fine gold
Weight: 1.0001 troy ounce (31.1035 g)
Diameter: 1.287 inches (32.70 mm)
Thickness: 0.116 inches (2.95 mm)

< 2011 Gold Buffalo | 2013 Gold Buffalo >