The United States Mint offered the 2014 American Gold Buffalo (Buy on eBay) in bullion and collectible proof format. The coins featured James Earle Fraser's classic depiction of a Native American on the obverse and an American bison on the reverse. The uniquely American images have contributed to the continuing popularity of the 24 karat gold coin series.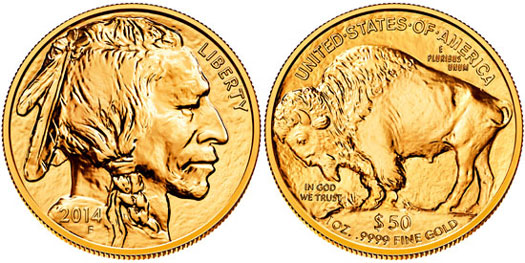 Bullion Coin
The bullion version of the coin went on sale to authorized purchasers starting on January 2, 2014. On this date, orders could be placed in unrestricted quantities for the one ounce 24 karat gold coins. Initial orders for the coins were slower compared to the prior year with 41,500 ounces sold during the month of January. The weakness carried over throughout the year with total annual sales reaching 177,500 ounces, representing a decline of 25.7% compared to the prior year.
The actual mintage of 2015-dated bullion coins was 180,500. The unsold inventory was carried over into the following year.
Proof Coin
On May 8, 2014, the U.S. Mint began accepting orders from the general public for the one ounce 2014 Proof Gold Buffalo (Buy on eBay). These coins were struck at the West Point Mint and carried the "W" mint mark. The standard proof finish consisted of frosted raised design elements and inscriptions against a mirrored background to create a cameo effect.
The proof coins were offered without a stated maximum mintage and no household ordering limits. The initial price for the coins was $1,640 based on an average weekly gold price within the $1,250 to $1,299.99 range. During the course of the offering, the price was adjusted in accordance with changes in the average market price of gold.
Following the excitement of the prior year's reverse proof issue and the unexpected sell out of the standard proof issue, the 2014 Proof Gold Buffalo saw strong opening sales. During the first week of availability, nearly 8,000 coins were ordered, far exceeding the opening sales figures for the prior two years. The coins would remain available for sale at the Mint until December when a sell out occurred. The last reported sales were 20,557 pieces, coming in ahead of the prior year total.

2014 Gold Buffalo Specifications
Bullion Mintage: 180,500
Proof Mintage: 20,557 (last reported sales)
Mint Mark: none (bullion), W (proof)
Designer: James Earle Fraser
Composition: 24 karat (.9999 ) fine gold
Weight: 1.0001 troy ounce (31.1035 g)
Diameter: 1.287 inches (32.70 mm)
Thickness: 0.116 inches (2.95 mm)

< 2013 Gold Buffalo | 2015 Gold Buffalo >