The United States Mint began accepting orders from authorized purchasers for the 2013 American Gold Buffalo (Buy on eBay) on January 2, 2013. This was the same day that orders were accepted for the 2013-dated American Gold Eagles. In all previous years, the U.S. Mint had first started sales for the 22 karat Gold Eagles, followed by the later release of the 24 karat Gold Buffalo coins. No reason was provided for the change in scheduling, although in recent years the release date for the buffalo coins had been coming progressively sooner.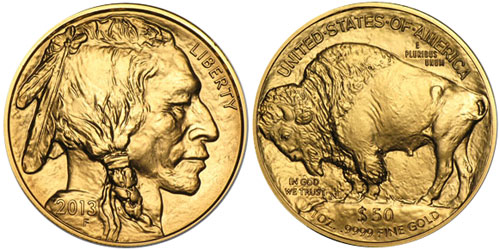 Bullion Coin
For the start of sales, authorized purchasers were able to order all 2013-dated gold bullion coins from the United States Mint without restrictions as to quantity. In several recent years, sales had been subject to rationing when demand exceeded available supplies.
After steady sales through the opening months of the year, a sharp decline in the market price of gold stimulated new demand for bullion coins. The 2013 Gold Buffalo bullion coins saw demand more than triple in the month of April. Sales through the first four months of the year surpassed the entire prior year annual total. Full year annual sales reached 239,000, nearly double the total from the prior year.
The annual sales total included a number of prior year dated coins. The actual final mintage for the 2013-dated bullion coins was 198,500 pieces.
Proof Coin
Besides the standard bullion option for this year, the United States Mint also offered the 2013 Proof Gold Buffalo on May 23, 2013. These one ounce coins were offered without a stated maximum mintage or ordering limits.
Later in the year, the U.S. Mint offered a special reverse proof version of the coin to collectors in order to celebrate the 100th anniversary of James Earle Fraser's classic design. This represented the first time that such a finish has been used for the series.
2013 Gold Buffalo Specifications
Mintage: 198,500
Mint Mark: none
Designer: James Earle Fraser
Composition: 24 karat (.9999 ) fine gold
Weight: 1.0001 troy ounce (31.1035 g)
Diameter: 1.287 inches (32.70 mm)
Thickness: 0.116 inches (2.95 mm)

< 2012 Gold Buffalo | 2014 Gold Buffalo >