On August 1, 2008, the United States Mint began sales of the 8-8-08 Double Prosperity Set (Buy on eBay). This set was released to celebrate the date August, 8, 2008. This date, which occurs once every 100 years, contains the number "8" three times. The number is associated with prosperity in many Asian cultures.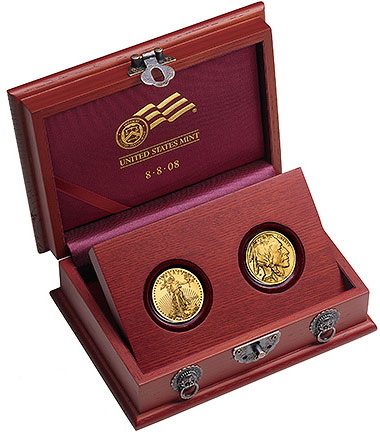 The set was offered as part of the United States Mint's "Celebration Series" which was created to explore numismatic products packaged and positioned for certain gift giving events. The previous release in the series was the 2008 American Buffalo Celebration Coin.
Two-Coin Set
The Double Prosperity Set contains two coins, the 2008-W $25 Uncirculated Gold Eagle and the 2008-W $25 Uncirculated Gold Buffalo. Each coin contains one-half ounce of gold. The coins are the collectible uncirculated or "burnished" version created by the United States Mint for collectors with the "W" mint mark for the West Point Mint. The American Gold Eagle and American Gold Buffalo coins were packaged in a custom hardwood box with a Certificate of Authenticity signed by the Director of the United States Mint.
When the sets first went on sale, they were priced at $1,228.88. This was a considerable premium above the combined individual prices of the two coins contained in the set, resulting in slow initial sales. On November 13, 2008, the price of the set was finally reduced to $1,078.88. Several more price adjustments were made after that date in response to the fluctuating price of gold.
The Double Prosperity Set became a popular seller after the individual offering for the 2008-W Uncirculated $25 Gold Buffalo coin sold out. The Double Prosperity Set remained as a method of purchasing the coin directly from the United States Mint. During the period of availability, the U.S. Mint recorded total sales of 7,751 sets.